The 13th annual World Communication Awards and first ever Total Telecom World conference are over for another year, so time to take a deep breath and relax. No chance, it's time to start working on Total Telecom Wireless World for June 2012!
Eighteen categories were awarded, with the highlights being the emergence of UPC Austria as the winner in two categories, Team of the Year and Best Customer Care, and the naming of Randall L. Stephenson of AT&T as CEO of the Year. Randall unfortunately was unable to make the awards, but did send us personal video message.
There is great press coverage of the awards this year, in particular the BBC were very quick off the mark to cover BT's win of Project of the Year for Superfast Cornwall.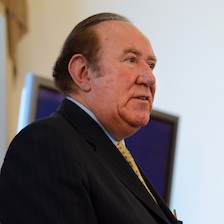 Almost 500 people attended this years awards dinner at the London Hilton on Park Lane where Andrew Neil demonstrated just what makes him such a popular commentator and presenter with his unique blend of topical, humourous, and the slightly cutting - especially if you happen to work for Orange. You can view all the winners and highly commended companies on the website at www.worldcommsawards.com
Many of those who attended the awards also participated in the inaugural Total Telecom World conference where they were moved and inspired by Karim Khoja's story of telecoms in Afghanistan, as well as getting great insight from Ed Richards, CEO of Ofcom and the opportunity to hear first hand from Nigel Stagg, the new CEO of BT Wholesale in his first conference presentation.
Panel discussions in particular were lively with candid views expressed by the likes of Jeremy Boardman of Rothschild (Any new UK fibre investors would be 'certifiable'), whilst David Haigh of Brand Finance was described by one participant as making the other panellists 'squirm'!
An eventful two days, when all's said and done...