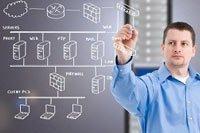 A recent study by ITCareerFinder has highlighted the fastest growing and most lucrative jobs in technology. High on the list comes network management at number five on the list.
ITCareerFinder offers a career projection over the 10 year period 2010 - 2020 suggesting that over this period network management jobs will grow at a rate 28% above the average growth in vacancies, with the main driver being organizations investing in new systems and network technologies. This reflects responses to date to our network management survey, where 80% of respondents say the area is of growing importance.
The study flags tablets and smartphones as a particular driver of the trend, but we're also interested in other factors, such as M2M, Big Data, Cloud and more.
Help us understand more on this subject by completing our survey, and we'll send you a complimentary copy of the report.
TAKE THE SURVEY
Looking for a network management job? Visit Total Telecom Jobs