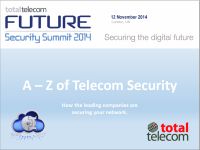 Every year Total Telecom starts looking at what people have read during the year, including
the whitepapers and eBooks that have stimulated the greatest interest.
We measure this based on views of the synopsis, and for 2014 see that LTE / 4G tops the interest area, followed by security, IPX, cloud and small cells.
So here's the top dozen (in alphabetical order), including multiple offerings from Oracle, as well as Accedian, AdaptiveMobile, FlexiTon, Huawei, Neustar, and ZTE - and a couple that we at Total Telecom put together ourselves...
If you'd like to have your white paper distributed and archived by Total Telecom, please get in touch: info@totaltele.com